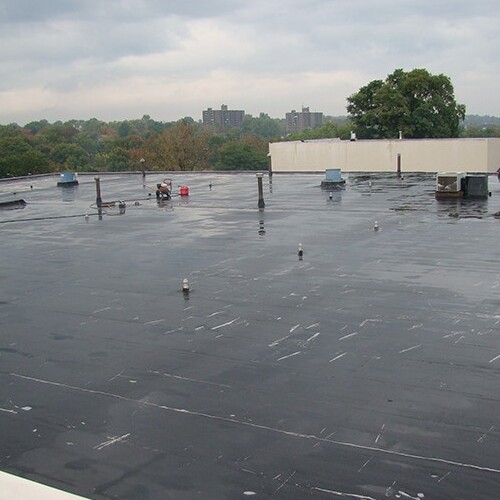 Best For Low-Slope Commercial Roofs
If the roof of your commercial facility is a low-slope, then you cannot go wrong with modified bitumen roofing. This type of roofing comes with many advantages, making it one of the most popular roofing materials among commercial property owners. Whether it is an industrial or a commercial facility, modified bitumen comes with benefits. It is a versatile, easy to install, and durable roofing material that continues to appeal to most property owners. At Pulaski Roofing & Engineering, we provide commercial roofing services to every facility in the area to ensure they have reliable and functional roofs. Call us today at (773) 349-9516 for more information regarding our modified bitumen installation, repair, and replacement in Chicago, IL.
The Advantages of Choosing Modified Bitumen Roofing
A modified bitumen roof comes in rolls reinforced either with glass or polyester. If you choose to add it to your low-slope roofing, it will be a protective layer for strengthening your roof for years to come. Modified bitumen installation is relatively easy, and you can customize it to fit any roof size or shape. There are two types of bitumen roofing options you can choose for your commercial property, either the SBS (styrene butadiene styrene) or APP (Atactic Polypropylene). Both fluctuate with the temperature, shrinking or expanding to avoid any cracking or breakage. APP is also known as plastic asphalt, while SBS is a synthetic rubber and consists of a double-ply system with extreme flexibility levels. As if that is not impressive enough, you can also treat your modified bitumen to withstand UV rays, which allows it to regulate the temperature within your facility, helping you save on your energy bill.
A reliable Modified Bitumen Contractor
Partnering with the right commercial roofing contractor makes a significant difference for your roof. With Pulaski Roofing & Engineering, you can always trust to get the best services available. Our customers trust us to deliver when they hire us for a project. We take every project seriously, bringing our A-game to the table every single day. We understand that you want to get on with your daily activities. With that in mind, we will try not to disrupt you so much during the project. Get to be apart of our success story by calling us today at (773) 349-9516 for more information or to hire us for our modified bitumen roofing services in Chicago, IL.