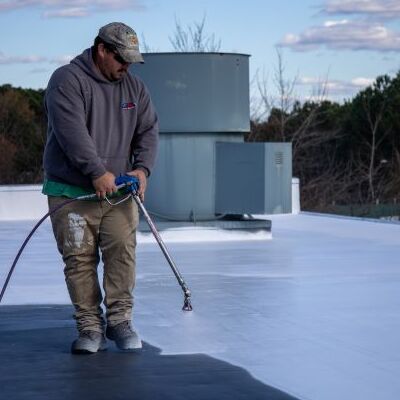 Secure Your Flat Roof
If you have a flat roof on your commercial property, then you understand that keeping it in top shape comes with a lot of attention to detail. If you do not have a reliable maintenance plan for your flat roof, it will suffer from tears and wear. To make sure you stay on top of things, have a maintenance plan with a reliable roofing contractor. The best way to make sure your flat roof stays functional for the foreseeable future is by adding a roof coating. This way, you will restore functionality, while also ensuring it can resist extreme weather conditions.
You cannot just go with anyone on your commercial roof project. You have to pick a commercial roofing contractor with a track record of success. For flat roof coatings in Chicago, IL, Pulaski Roofing & Engineering comes to you with four decades of experience under our belt. Over that time, we have completed numerous successful flat roof coating projects. We take all our projects seriously and always arrive ready with the tools and personnel to produce commendable results. Give us a call at  (773) 349-9516  for answers to your questions or schedule our services today.
Benefits of Flat Roof Coatings
Why choose flat roof coating application over roof replacement? For one, if you compare it to installing a new roof, a flat roof coating is affordable. Two, it is easy to install. You will remedy problems with your roof like leaks and ponding without having to remove the damaged roofing. Lastly, a flat roofing coating prolongs the lifespan of your roof. After application, the coating can add anywhere from ten to fifteen years to your roof. After this time, if you still believe your roof can still serve you, you can add another coating. However, before making such a decision, it is advisable to have professionals from Pulaski Roofing & Engineering for a roof inspection. This way, we will offer you advice on the best course of action to take. To schedule our roofers for flat roof coating services in Chicago, IL, call us today at (773) 349-9516 .