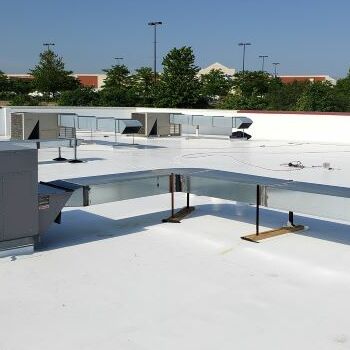 Energy Efficient Roofing Option
With the right roofing solutions, you will get to save money on your energy bills. There is none more reliable than reflective roof installation. With Pulaski Roofing & Engineering, you will get the best reflective roof installation, repair, or replacement services. We are a commercial roofer with years of serving businesses with cool roof installation in Chicago, IL. Our technicians are skillful and come to you ready to restore the functionality of your roof. Call us today at (773) 349-9516.
Why Go For Cool Roof Installation
The temperature of your roof can skyrocket during hot summers. During such months, your roof spends the whole day under the sun absorbing heat over that time. Depending on the material, your roof is likely to consume lots of heat and makes staying in your property unbearable. However, with a reflective roof, you can keep the temperature as low as 60 degrees during the hot seasons. Having a cool roof ensures your roof maintains the temperature in your facility by reflecting heat away.
One common type of a cool roof is TPO, a reflective roofing material that protects your roof from absorbing heat. You could also choose to go with other reflective membranes like PVC or with a roof coating. We can help you decide on which solution will work best for your facility.
Aids Your HVAC System
If your roof keeps the temperature low on your property, it will mean less stress on your HVAC system to keep the temperature in check. This way, it will help you save on the money you would have used on the energy bills. With a cool roof, you will not have to overload your AC during hot summers to keep the temperature in your home cool. It is also an Eco-friendly way of controlling the temperature within your business.
Set an Appointment Today
For more information on how a cool roof helps you with energy efficiency and durability, contact Pulaski Roofing & Engineering. We have reliable roofers who have the experience to provide you with roof installation services. We always make sure to arrive on time, ready with the equipment and personnel to complete the work within the set time. We will provide you with all your available options and how much it will cost you before proceeding to a cool roof installation in Chicago, IL. Call us today at (773) 349-9516.