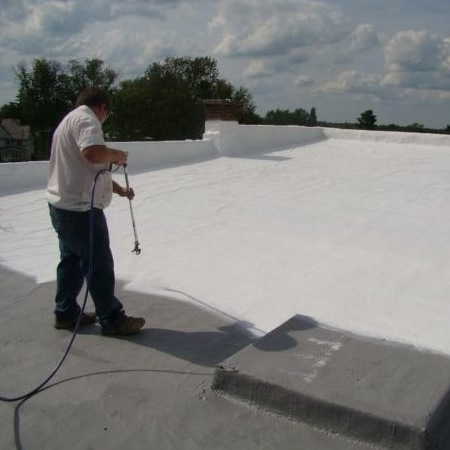 Timely Installation With Excellent Results
When you run a commercial property, you always want to get the best out of all your investments. Maintenance projects are costly, and anything that could help you cut the cost is a welcomed prospect. At Pulaski Roofing & Engineering, you can trust us to deal with anything regarding your roof, even more so if it is coating. No matter the size or material, we will ensure you get the best coating that guarantees roof restoration and extension of its lifespan. Call us for commercial roof coatings or any other repairs in Chicago, IL at (773) 349-9516.
Types of Commercial Roof Coating
The advancements in roofing technology have ensured there are more than enough picks for roof coatings. All you have to consider is your roofing system, how long you want it to serve you, and your budget range. The technicians at Pulaski Roofing & Engineering will help you settle on a roof coating that reconciles well with your preferences. Some of the roof coatings we offer our clients include acrylic, silicone, aluminum, and polyurethane. Although the choices are many, most of the time, it involves picking between silicone and acrylic.
Silicone: Most commercial properties require a layer of silicone coating to regain their functionality. This way, it is easy to install, and you can expect immediate results. It also does not require a primer and the coat comes with over 40 millimeters of thickness. As if that is not impressive enough, it's very flexible and elastic, meaning you can fit it into any roof shape or size. It also adjusts depending on the temperature, meaning you do not have to worry about it cracking because of the weather.
Acrylic: It is a water-based coating that forms an elastic layer above your roof. Application is through spraying, and once it is applied, it can adjust no matter the temperature to make sure your roof remains functional. Because it is water-based, you do not have to worry about any chemicals during application. This way, you can proceed with your daily activities during application. It typically comes in light colors like white, which reflects heat away from your roof, helping you save on your energy bill.
Types of Roofs We Coat
With the ever-improving roofing industry, there are many commercial roof coatings, both in design and material. At Pulaski Roofing & Engineering, we acknowledge that there are different styles and materials in commercial roofing, and we are always ready when you call for coating. It does not matter the type of roof you have for your commercial property, whether it is a flat, a metal, or a rubber roof, expect nothing but first-class roof coating application. To get more information on our services or to hire us for your commercial roof coating in Chicago, IL call us today at (773) 349-9516.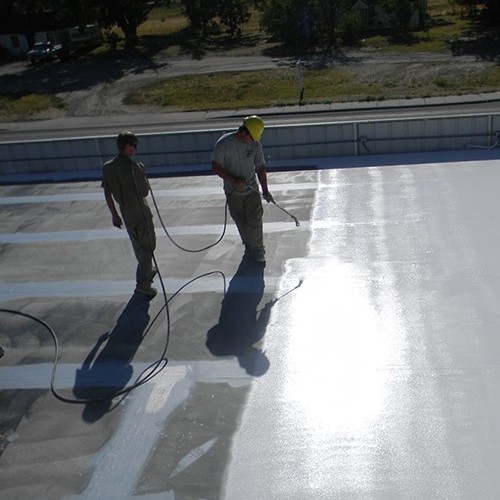 Our Commercial Roof Coating Process
Before we begin the roof coating process, we will send our technicians to inspect your roof. They will be searching for any damages that need repairs before we get on with the coating process. They will also use a power washer to clean your roof of debris and pooled water, readying your roof for the application of the coating. Cleaning your roof is essential; it ensures the roof coating will stick during application. If not clean, the roof coating will not stick, hence not restoring your roofing system. Our technicians also determine whether the slope of your roof is perfect for a commercial roof coating. If the roof coating does not stick as expected, we use a primer to ensure it sticks. We come to you with years of experience and will use it when inspecting your roof or determining whether you need a primer or not.
The application of a coating prolongs the life of your roof by at least a decade. All you will have to do is perform regular maintenance to keep it functional. If extreme weather conditions crack or tear your roof, you can call Pulaski Roofing & Engineering for repairs. We have a crew of skilled technicians who will succeed in the roof coatings application and any subsequent adjustments in the future.
Commercial property owners in Chicago, IL can put their trust in our commercial roofing services. Our technicians have the experience, skills, and tools to handle all your commercial roofing needs, including roof coating application. We love our job, and you can expect nothing but an excellent customer experience when you hire our technicians. For more on our commercial roof coating services, do not hesitate to call us at (773) 349-9516.
Flat Roof Coatings If you have a flat roof and you have been recently experiencing problems, schedule our services. We will provide you with flat roof coatings to restore the functionality of your roof.
Metal Roof Coatings When the metal roof you rely on to protect your commercial properties from the elements starts malfunctioning, call us for metal roof coatings to restore functionality.
Rubber Roof Coatings Get in touch with us for rubber roof coatings if your rubber roof is no longer operating at the required standards.